US ARMY APPROVES PLAN FOR AIR-DEFENCE MODERNISATION
Senior US Army leaders have approved a plan to modernise the service's air-defence forces and may pursue a joint programme to develop a new ground based missile system with the US Marine Corps.
According to Maj Gen Dennis Cavin, Commanding General of the Air Defense Artillery Center and School at Ft Bliss, Texas, the HUMRAAM medium-range self-propelled missile system "is one of the enablers that will allow the transformation" to a new air and missile defence concept.
HUMRAAM mounts the AIM-120 Advanced Medium-Range Air-to-Air Missile (AMRAAM) on a High-Mobility Multipurpose, Wheeled Vehicle (HMMWV).
Gen Cavin said the army is looking to transform its air and missile defence capabilities to increase the operational battlespace they can support in line with the overall army transformation strategy for the Interim Brigade Combat Teams (IBCTs) and objective force.
The army would move a limited number of Boeing Avenger self-propelled short-range air-defence systems to the Army National Guard (ARNG) as part of that transformation and the ARNG would also get some HUMRAAMS. Although tentative, the army is looking to acquire 444 HUMRAAMs that will replace 98 Avengers, 48 M6 Bradley Linebacker Short-Range Air-Defence systems, and 56 Bradley Stinger Fighting Vehicle MANPADS Under Armour, army officials said.
The programme is "very similar in concept and mission" to the US Marine Corps' Complementary Low-Altitude Weapon System (CLAWS), making it "intuitive to join together into a joint programme", said Gen Cavin (Jane's Defence Weekly 12 April). He noted that although the two programmes' requirements are not identical, "they can be harmonised to allow us to buy more systems and keep the cost down".
The benefit of the new system, he said, is its increased capability to engage targets at greater distances. For example, the Raytheon Systems Company Sensors and Electronic Systems' Sentinel AN/MPQ-64 radar can see over 40km and the TRW Forward Area Air Defence Command, Control and Intelligence (FAADC2I) system can handle targets at that range, but "we are limited by the range of the Stinger missile ... HUMRAAM allows me to go to that maximum range".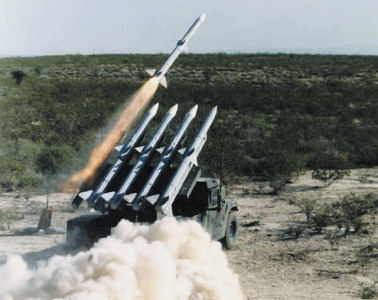 A HUMRAAM prototype launches an AMRAAM during testing. The service plans to acquire 444 HUMRAAM in what could be a joint programme with the US Marine Corps. © USMC
The HUMRAAM would not replace the shorter-range Stinger missile systems, Gen Cavin said, but would provide complementary capability. Because the Stinger is guided by an infrared seeker and AMRAAM uses radar guidance, "defeating them both [with countermeasures] would be very difficult".
"We are looking at a concept that says a ground-launched AMRAAM could be a complement to MEADS [Medium Extended Air-Defense System]," Cavin said. The AMRAAMs would be used as a low-cost killer of air breathing threats such as unmanned air vehicles, cruise missiles and stand-off helicopters, while more expensive Patriot Advanced Capability-3 (PAC-3) type missiles would be used to engage theatre ballistic missile threats.
The army is looking at a system that could fire PAC-3 missiles or AMRAAM from either the same launcher or same battery. "As the system evolves, we will take a look at other missions," Gen Cavin added.
While the army's programme is still in the formation stages of developing an Operational Requirements Document, the USMC is expected to release a Request for Proposals (RFP) for CLAWS shortly.
That RfP will be for a joint programme definition and risk reduction, and engineering and manufacturing development phase that will lead to a first unit equipped in late Fiscal Year 2005 (FY05).
The USMC has $39.4 million to spend on the development effort through to FY05, while army fielding is still unresolved. However, Gen Cavin said: "At this stage we have the capability to fund HUMRAAM with our existing budget." Raytheon, Lockheed Martin and Boeing said they will lead industry teams bidding on the CLAWS programme.
The USA announced last month that it would sell a ground-launched version of the AMRAAM to Egypt under the Foreign Military Sales programme (JDW 12 April). Although the DoD said that details on the Egyptian sale had not been worked out, industry officials claim Cairo is interested in a hybrid system that could fire either AMRAAMs or HAWK surface-to-air missiles. Norway already uses the AIM-120 in the ground-launched role for its Norwegian Advanced Surface-to-Air Missile System.
Jane's Defence Weekly, 05.05.2000