TRW LASER REPEATEDLY ENGAGES AND DESTROYS MULTIPLE TARGETS
TRW the US Army Space & Missile Defense Command (USA-SMDC) and Israel's Ministry of Defence (IMoD) have set a new performance standard for directed energy systems by using the Tactical High Energy Laser/Advanced Concept Technology Demonstrator (THEL/ACTD) to repeatedly detect, track, engage and destroy salvos of Katyusha rockets fired in rapid succession.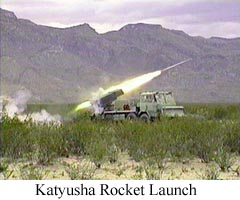 In a series of two-rocket salvo tests conducted August 28 and September 22 in the rolling, high desert of the Army's White Sands Missile Range, N.M., the THEL/ACTD did twice what no other air defence system has ever been designed to do: detect, track and destroy multiple Katyushas in a single engagement.
The historic multiple rocket shoot-downs were achieved less than four months after TRW, SMDC and IMoD first used THEL/ACTD to destroy a single armed Katyusha in flight. They were performed as part of an ongoing programme to demonstrate the THEL/ACTD's lethality against short-range tactical threats such as Katyusha rockets.
"Killing one rocket was significant, but being able to show that we can consistently kill two or more targets per engagement puts THEL/ACTD in a class by itself," said Lt. Gen. John Costello, Commanding General, USA-SMDC. "These tests are making it increasingly clear that directed energy weapon systems have the potential to provide some unique and very effective defensive options on the tactical battlefield."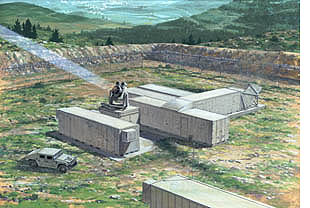 Engineers from TRW, the Army and the IMoD conducted the multiple rocket tests under test conditions similar to those used during the June 6 (DE-Day) test, when THEL/ACTD successfully intercepted and destroyed a Katyusha rocket on its first attempt. The major difference, of course, was that in these tests, the laser system detected, tracked, and destroyed two rockets in quick succession.
The TRW/US Army/IMoD THEL team will use the multiple rocket test data to evaluate the system's performance relative to its mission requirements. The THEL/ACTD was designed, developed and produced by a TRW-led team of US and Israeli contractors for the US Army Space & Missile Defense Command, Huntsville, Ala. and Israel's Ministry of Defence.
Requirements for the system have been driven by Israel, which needs to protect civilians living in towns and communities along its northern border against rocket attacks.
TRW has been engaged in laser research and development since the early 1960s.
© «Defence Systems Daily», 25.09.2000