SMS TO EQUIP THE TERRITOTIAL ARMY WITH THE STARSTREAK HIGH VELOCITY MISSILE SYSTEMS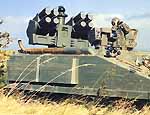 Armoured Starstreak is a self-propelled Starstreak system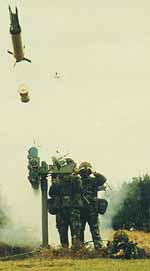 The Lightweight Multiple Launcher
The Missile
Shorts Missile Systems Ltd (SMS), the UK Prime Contractor for Very Short Range Air Defence Systems (VSHORADS) today announced the award of a further contract for Starstreak launcher and fire control systems along with associated training and support equipment.
The value of the contract is around (GBP60m) and is further evidence of the Ministry of Defence's continuing commitment to this world beating missile system, and it follows the GBP200m order for missiles that SMS received in December last year to supply the Regular Army.
The Starstreak High Velocity Missile (HVM) entered service with the British Army in 1997 and was successfully deployed in support of the UN operation in Kosovo in 1999. This new order is to equip both regular and Territorial Army forces with this very latest missile system operating at a velocity in excess of Mach 3 and utilising laser beam riding guidance rendering it immune to all known countermeasures.
Speaking from Belfast today Terry Stone, Chief Executive Officer of SMS said, "Obviously we are delighted with the announcement of this contract. We are all very confident in the world class capabilities of this system but it is always very rewarding to see this translated into orders for the system. The UK deploys Starstreak primarily as an armoured configuration, but the system has been designed to ensure that integration onto a Lightweight vehicle is equally possible. We are confident that the Starstreak range of systems can defeat the primary air defence threats within the Very Short Range segment for many countries and I look forward to adding to this order with export contracts."

SMS is part of Thomson Racal Defence Limited, the UK's second largest defence supplier. Thomson Racal Defence's extensive activities encompass: communications, air defence, sensors, optronic systems, naval systems and avionics. Combined global revenues of the Thomson-CSF group are 8.2 billion euros. The company employs 65,000 people world-wide; 50% are based outside France, including 14,5000 in the UK, which has turnover of 2 billion euros.
© «Shorts Missile Systems», 28.09.2000
Photo © Army Technology